Pressure washers that blast away built-up dirt, oil and grime.
Pumps & Pressure Inc. is the largest dealer for Karcher pressure washers in North America. We know you work hard, and so should your equipment and tools; that's why we provide you with a professional line of high-pressure washing equipment that will work effortlessly in rough work environments.
You can also find our own line of HOTSHOT pressure washers, designed and manufactured by Pumps & Pressure.
Our easy-to-use, dependable electric and gas pressure washers are perfect for agricultural, commercial and industrial professions in indoor and outdoor applications. Our pressure washers clean everything from tractors and trailers to heavy-duty equipment.
Our Karcher and HOTSHOT power washers have effective water pressure, hot and cold water settings, flow rates and equipment - all perfectly balanced for maximum results.
Effortlessly blast away built-up clay, oil and grime on your tracks, buckets and booms with water pressure up to 5,000 PSI. You can also efficiently clean medium to large indoor areas with ease.
Contact your nearest Pumps & Pressure dealer for more information and learn which Karcher or HOTSHOT pressure washer is the best for you.
Karcher Pressure Washer Features
Hot & Cold Water Options
Soap & Chemical Options
Electric or Gas Engines
Lifetime Coil Warranty
7-Year Pump Warranty
Up to 5,000 PSI
---
Pumps & Pressure Inc. is the largest dealer for the professional line of Karcher Pressure washers. Karcher invented the high-pressure cleaner in 1950 and has been leading the industry ever since. Karcher offers hot and cold water pressure washers powered by electric motors or combustion engines for mobile or stationary applications.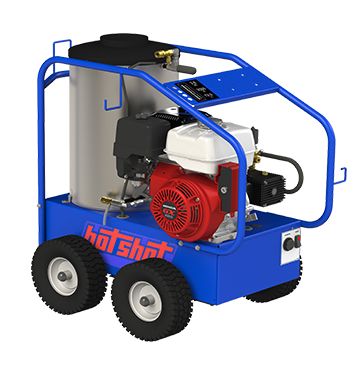 Branded HOTSHOT, Pumps & Pressure Inc. manufacturers our cold water gas-driven pressure washer. Each unit is built and tested in our facility using high quality components for long lasting portable pressure washers. Our units are supported with replacement parts department in seven locations in Western Canada as well as an industry leading warranty program. If you are looking for…